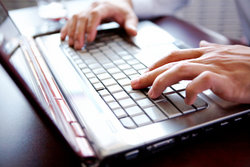 I have a coaching business and often my work requires doing activities by myself – like writing articles, updating my website, planning my work flow and programs, scheduling things, creating new content, answering emails, doing other forms of admin like accounting, and client care (those in-between-session things like writing up a follow-up, creating something JUST for them or sending a recording of their session).
Recently we moved to England and my new environment doesn't yet feel completely normal, natural and flowing for me. I've often found myself sitting at my desk and feeling clueless about what to do next. Then I fiddle with emails for a few minutes, start feeling completely unproductive and almost instantly get a sleepy feeling. Horrible. I KNOW I have plenty on my plate, yet I can't sit down and get excited about it. Then I get up and do something else completely non-business-related (usually making a cup of tea!) OR I keep sitting at the desk, feeling more and more sleepy and down on myself.
Do you know that feeling? "I SHOULD be able to do better than this!", I often hear myself saying.
Then I remembered something I'd heard about from a respected coach, George Kao. Virtual co-working. I've never had the opportunity to participate in such a session and mentioned this to a colleague of mine (hi, Alison!) in a Skype conversation.
She also had many tasks that she needed to get done and found a little challenging to complete… so we were on for a co-working session!
Alison does not have unlimited broadband access where she currently lives, and I'm an introvert who doesn't like to feel I'm being watched, so here was our format:
A quick 10 minute audio call to mention our most important tasks and strategy for the day ahead. We decided on a time at the end of the day that we would meet for another 10 minute voice call, and we put that in the diary immediately.
Thereafter, we checked in on Skype with a text message every 90 minutes to report progress, wins and challenges.
A 10 minute voice call at the scheduled time (end of the day), where we looked at what we learned, and agreed on our co-working times for the next 2 days.
I'm happy to say it worked like a DREAM for both of us!
What I learned from this experience:
It helps me so much to have an accountability partner. I could not merely sit and faff with unimportant things. I had to get crystal clear on my tasks for the day, and for every 90 minute chunk of time. There was someone on the other side who was waiting to hear how things went, and I didn't want to look like a loafer! The clarity of knowing EXACTLY what I was going to spend time on next provided me with momentum, and it kept building through the day.
With every "I did this the past 90 minutes" message, I felt more and more productive and accomplished, and my energy levels climbed during the day.
Having the feeling that someone cared that I exist and was working, felt connected and gave me the feeling that I, and my work, mattered. And caring about her success, in turn, plays right into my strengths. I love supporting others, and that's why it's often hard for me to get my own priorities done. It's so much easier for me to help and be there for others, than for my personal goals. So here I could combine both – work on my own goals, feel supported, AND provide the support for someone I care about.
We felt connected across this huge distance (SA and London), and could now tweak our process for the next 2 days. We didn't get down on ourselves for what we didn't get done. There was only support and celebration for what DID happen. And after we'd finished for the day, Alison got 3 more things ticked off her list.
Another very important learning for me was that I got less stuck in having to prioritize PERFECTLY. Whichever task I chose next, would get me moving in the direction of progress, and I would feel better and build momentum… Instead of getting stuck in 'I don't know which one to do next'  – I just chose one that felt easy/great/like the next one and got started. Alison was waiting for my update!
Other Applications
I shared this process with my husband, who is feeling a little isolated from his own team in South Africa. He was excited about the possibility of bringing a feeling of cohesion to his own team who is scattered across the globe, too.
The person I originally got this idea from (thanks George!) was excited to hear about this model that could work really well for introverts. I love writing, and don't always make the time for it – so here I am, getting to do something energizing, and in a little while, I can also report back to Alison through one of our 90 minute check-ins, that I have successfully completed another task.
Win-win-win-win.
Over to you:
Have you tried co-working? Which model did you follow? Is the above something you could try?
Let us know in the comments!