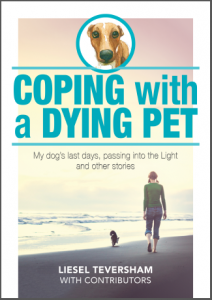 I posted this originally on my Facebook Author Page and the link is at the bottom of this post. I'd be so happy to see you there so we can have a conversation!
My heart is happy today.
I wrote "Coping with a Dying Pet" as my doggy Jack was going through very tough health challenges.It was a very stressful few months in our household as he got sicker and sicker, and I was in the biggest conflict about what was right for him.
I got in touch with beautiful, kind-hearted animal communicators to help me with decisions on his health-journey. It was incredibly helpful to me that I didn't have to make those hard decisions on my own. They helped me to decide wisely – what was best for my boy, and not only what was best for me.
It was Jack's wish that this book help other pet-owners facing similar challenges.
And today, my heart feels full. Today, one such pet owner had the help from one of the animal communicators in my book.
One of my dear clients needed help with a decision about her sick kitty. She bought the book a week ago, and yesterday needed to talk to one of these dear people that can help give our animals a voice, when we are too emotional to hear them.
She got the help she needed and is at peace now.
Thank you Jack, my boy, for this gift you're passing on to others. And thank you to the lovely souls who communicate with our animals, so we can give them the lives they deserve.
It's available both in print form and online.