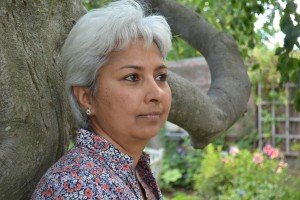 Uma Girish is a Grief Guide, Certified Life Purpose Coach and Award-Winning Author. Her latest book, published by Hay House, is a transformational memoir called Losing Amma, Finding Home: A Memoir about Love, Loss and Life's Detours . Following her own journey through grief and loss, Uma is committed to helping women find new purpose from the ashes of their loss so they can lead a life of meaning and joy. Uma hosts a weekly podcast called The Grammar of Grief and also writes a blog by the same name. She is also the co-founder of the International Grief Council which seeks to impart the message that grief is a universal language we speak, irrespective of color, race, country or culture.

Some Points We Discussed
The traumatic event of losing her mom led Uma to redefine what her life was about.
She learnt that the situation of loss is an invitation to expand.
Every ending always has a hidden new beginning.
Obstacles are often an invitation to deepen our souls.
It is important to open ourselves up to the pain rather than contracting from it.
In order to embrace pain, we need to find a comforting container:
We could connect with someone who can bear witness and listen to our story.
Or we could turn to our journal. A blank page doesn't judge our pain and fears.
Open yourself up to the pain and listen to what the pain is telling you.
Recognise life's detours as an awakening of your soul.
During life's detours,we  are faced with a choice to make.
You choose the safe option or you choose the unknown.
The challenge of embracing your pain is to have faith in taking baby steps on an unknown journey.
Trust that your soul knows the direction. Feel the fear but walk with faith.
We cannot hear our soul's wisdom if we aren't silent.
Uma's Website
Find Uma on Social Media
Facebook
https://www.facebook.com/umawrites
LinkedIn
https://www.linkedin.com/pub/uma-girish/3b/7b8/898
Google
https://plus.google.com/+UmaGirish/posts
Recommended Books
Losing Amma, Finding Home: A Memoir about Love, Loss and Life's Detours 
Understanding Death: 10 Ways to Inner Peace for the Grieving
Liesel Teversham
Liesel helps sensitive introverts to see their sensitivity as a superpower, love their work and practice awesome self-care so they can be energized and make a difference in a meaningful and fulfilling way. She helps them to overcome the fear of being visible, avoiding the spotlight and conflict, being 'too nice', perfectionism and procrastination.
She's the author of "No Problem. The Upside of Saying No", which is a handbook for those who struggle to say no, are overwhelmed and exhausted.
Click here to read about the book.