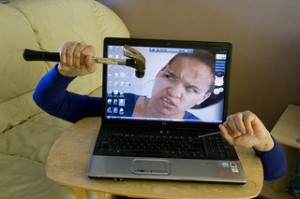 Do you know that annoying feeling when something was working just fine –  and then, for no obvious reason, it stops working?
I recently experienced enormous frustration with iTunes. I use my iPhone to make appointments with friends and clients, and then sync my iPhone with my Outlook Calendar. This has turned out to be the simplest appointment solution for me. I don't like carrying around a paper diary. I do all my planning and scheduling in Outlook, then I can export those appointments to Excel to calculate room rent, mileage and other important bits for tax purposes.
Recently (for no reason I could find), iTunes would simply not detect my iPhone any longer. This meant I could not make sure I had all my appointments in both Outlook and on my iPhone and I had to keep saying to people "I'll call you back, I need to check my diary."
One of the most annoying bits was that this happened while my husband was in London, and unavailable to help me sort it out. He's the real techy brain in the family, although I can find most solutions when I really spend the time to read up and use Mr Google to answer my questions.
After trying for literally hours, this morning I asked Andrew to please help before I went mad. I felt mad as a snake by now and could strangle Apple for not providing solutions on their forums.
Andrew tried everything I'd already gone through with no better results. After 2 hours, he needed to go outside to help the gardener with something and I kept reading forums. No luck yet by the time he returned. Out of desperation, I typed a search phrase I'd already searched on last week, and this time read further down the list. I read all the posts on page 1 and 2 of this particular forum, almost gleefully because they all reported what I already knew. The supposed solutions did nothing for me, either.
Halfway down page 3 (I did not read this far the previous week), I found something I hadn't seen yet and thought "We can't lose by at least giving it a try." It was a very different solution to all the others. And …. voila! Within 2 minutes, the problem that had cost me around 4 or 5 hours thus far, was solved. The relief I felt was indescribable!!
So of course, I'd love to provide you with the solution as well, in case you're struggling with this issue.
The Problem
It seems to occur when upgrading to iOS 7, or iTunes 11.1 or higher. It manifests like this:
When connecting the iPhone via a cable, a message appears on the iPhone that says "Trust this Computer/Do not Trust".
Clicking "Trust" or "Do not Trust" makes no difference – the result is, in iTunes the iPhone is not visible at all.
The iPhone asks this same question every single time you try to connect with the computer (even though Apple Support says it should only happen once, after which the phone will trust this computer indefinitely).
The Solution
It appears that in the upgrade process (to iOS 7, or iTunes 11.1) something went wrong with the Drivers for Apple Mobile Devices. Here's what to do:
Connect the iPhone to your computer with the cable.
Go to Control Panel > Device Manager.
You may see that your iPhone is not visible under "Universal Serial Bus Controllers" (that's what USB stands for, by the way…) – it should be almost the first entry, with the name "Apple USB Device Mobile Driver".
Now Click Portable Devices, and underneath you should see "Apple iPhone".
Right click "Apple iPhone".
Click "Update Driver Software".
Select "automatic update", or you can say you want to search manually and use this path:

C:\Program Files\Common Files\Apple\Mobile Device Support\Drivers (the driver name is usbaapl64).

When the driver update is complete, close all programs and restart your computer.
Connect the iPhone again and voila – you should now be able to see it in iTunes and experience wonderful feelings of relief!
After this experience, I had a few thoughts about how we can deal with problems, or roadblocks on the way to something we want to achieve.
We sometimes give up to soon, while the answer is right around the corner.
I read the forum with the solution last week. I only read up to page 2 and the solution was on page 3. Only a little further and I would've sorted this out days ago, minus the frustration!
We have opinions on what "should" be happening. Is that true?
Having this attitude doesn't bring peace, as I discovered. I kept saying to myself "This SHOULD work. Apple SHOULD provide a solution. Damn Apple for not providing a product/upgrade that works. I shouldn't have to spend all this time on this problem."
The truth is – all is as it "should" be, otherwise it would be different. Do you know the work of Byron Katie? She's a remarkable woman who helps people to discover peace inside by investigating their thoughts about life. Her system works through asking four very specific questions, plus doing a "turnaround" of the problem. In a later blog post I'll explain this remarkable work.
One of her brilliant teachings is: "How do you know you should have this problem right now? Because you DO have it. " That doesn't mean the problem will stick around forever. It does mean that right now, this "problem" is here, and if we accept that that's the way it is, for now, it's really not a problem. It's only a problem because we want things to be different. Well – it's not different. This is the way it is. For now, until it changes.
I was struggling with this phone issue, thinking "I SHOULD be spending this precious time on something else, not on this!". Turns out – this is exactly what I needed to spend my time on, for me to gain awareness around setting and reaching goals with patience and perseverance!
Emotions are a really big part of our experience
That's one of the things I see over and over in my work with clients. It's not so much the actual event/happening, it's our emotional reaction to it that can make it a pleasant or unpleasant experience.
Some people will see this as a challenge (and they love challenges) therefore this type of experience is a delightful one. Others hate wasting time and don't like finding solutions, therefore this will be an unpleasant experience.
We all need tools to deal with our emotions and help us make experiences pleasant and easy. A tool like EFT or The Sedona Method, or Byron Katie's "The Work" can help every single one of us to create a life of choice regarding emotional reactions.
We simply cannot control what happens to us. We CAN control how we're going to react, or at least learn to temper those outbursts and bring down the frustration. Then, every experience can be a "learning" instead of a frustrating waste of time.
Moral of the Story: Personal Growth from difficult experiences
Don't you love how we can learn something from every "negative" experience, and turn it into a positive one? In this case, Apple was my "teacher". It helped me gain awareness. The minute I learn something from a difficult experience I'm no longer the victim. I'm the victor and can help others to find how to let iTunes find their iPhones again!
Love to hear your take!
photo credit: f1uffster (Jeanie) via photopin cc