Class: EFT for Fear of Failure
Where does fear of failure stop you?
Many people might not want to admit that they have this fear. It feels kind of lame, right? "If I admit it, people might think less of me", we whisper to ourselves.  
We hear everywhere 'You get what you focus on!' So why do we continue to fear?
Here's the thing.
We don't fear failure because we want to. We continue to fear it because we have something called a 'limbic system' that is there to try and keep us safe. 
We fear failure because somewhere in the past we had an experience of it, which certainly did not feel great. Our limbic system is doing the best it can to protect us from another occurrence. 
Furthermore, it's not really 'failure' that we fear, either. Failure is just a word that cannot harm us.
What we really fear, is the result of a failure.
And that is most often the feelings or emotions that we experience.
Difficult emotions like embarrassment, humiliation, shame, guilt, disappointing someone, letting someone down, the look in their eye, the regret, the sadness… maybe even rejection, and an absence of love. An icy silence maybe.
That is what we really fear.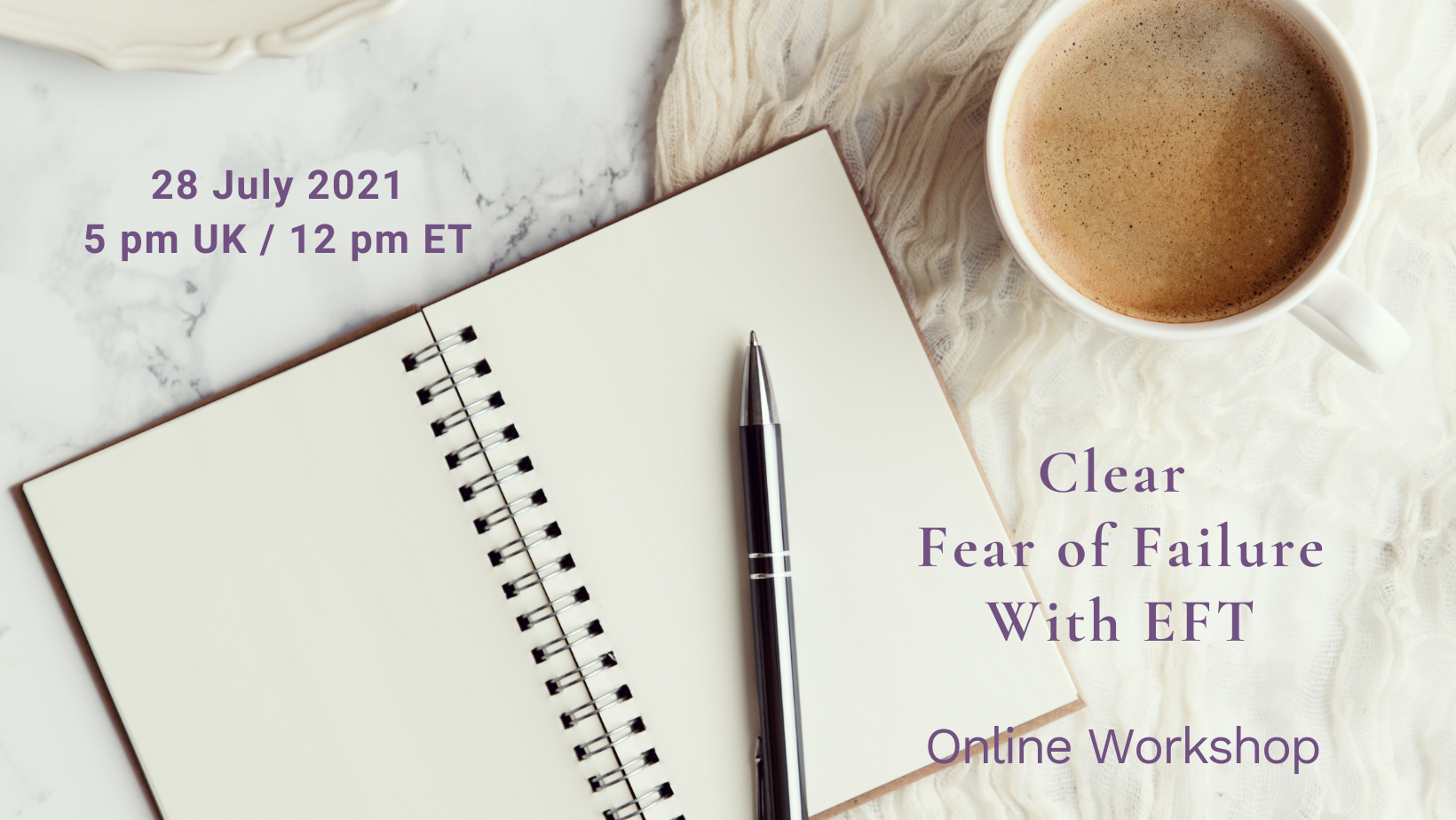 This fear stops us from so much. It can prevent us from
enjoying our work

finding new work

writing a book

reaching for a goal

learning a new skill

practicing a hobby we love

growth and development

progress
It can also lead to:
trying too hard

perfectionism

working on a project for far longer than necessary

exhaustion

never resting or taking time out
In this 90 min class you can: 
Reflect on your own understanding of and background with failure
Learn a more helpful association with this word
Release (through targeted, effective EFT tapping) layers of the emotions that 'failure' can cause: shame, embarrassment, humiliation, overwhelm, stress, guilt and more
Create a new frame for yourself around progress
Take this class to put in place the start of a sustainable way to view progress, perfection, failure and enjoyment. 
Fee:
£30 (around $45)
Early Bird up to 22 July: £20 (around $34)
Time:
Wednesday 28 July
9 am PT | 12 noon ET | 5 pm UK | 6 pm SA/Europe
90 minutes online
Will all your fear be gone after these 90 minutes? 
I would be selling you snake oil if I said yes. The answer is: I don't know, because you are a unique individual with a background I don't know the first thing about. 
Here's what I can say: 
Every person who attends my workshops usually feels lighter, has deep insights, makes progress on their issue, and releases chunks of the challenge. 
At the end of the workshop, I'll share ways at you can continue to make progress. 
Get access to the workshop here:
Access Details:
You will receive all the details of how to access the class immediately.  Check your Junk/Spam folder if you don't see it.

We'll meet online on Zoom, with audio and video. 
My classes are introvert-friendly: small, intimate, we mostly use the 'chat' function, and no one is ever put on the spot. 
I look forward to supporting you to have more freedom from this fear. 
What Participants of Previous Workshops Said
"Liesel Teversham's Self-Care for Introverts class was just what I needed to restart my self care practice.

She reminded me of how essential it is for me to practice self care in order to serve others.

Far from being selfish, practicing good self-care and setting strong boundaries enables me to generous. "
"Liesel presents in such a relatable and inclusive way that makes every workshop a pleasure.

Even the toughest of subjects is opened up gently and with genuine care and I feel comfortable to explore."
"I enjoyed the format, the exercises, getting ideas from you and others, having a framework
for understanding more about myself, and the commitment we made to ourselves."