How to Shine in your Business as a Sensitive Introvert
As a Highly Sensitive Introvert with a business, 
do you recognize any of these?
You compare yourself to other (extroverted) business owners and try to fit into a mould that feels unnatural and stressful.
You feel lonely in your business journey. 
You were used to someone else telling your what to do if you were employed – and now there's no-one to ask.
You long for a community where you no longer feel alone with your business struggles, and are accepted for your sensitivity. 
You fear judgment, criticism or rejection from clients or people 'out there'

who read your articles, videos, blogs, newsletters or offers.

You procrastinate on tasks that feel scary or unpleasant, like marketing,  putting yourself out there, publishing offers, writing newsletter or articles, or anything tech.  
You overthink, and want to be 200% sure before taking action…and still find reasons to talk yourself out of it because it seems way too risky. 
You never feel quite ready to offer your work.
You want to help and support others, and build a business you love, but it feels completely impossible in a loud, shouty world. You just don't know how to be yourself and be heard and seen in a world made for extroverts.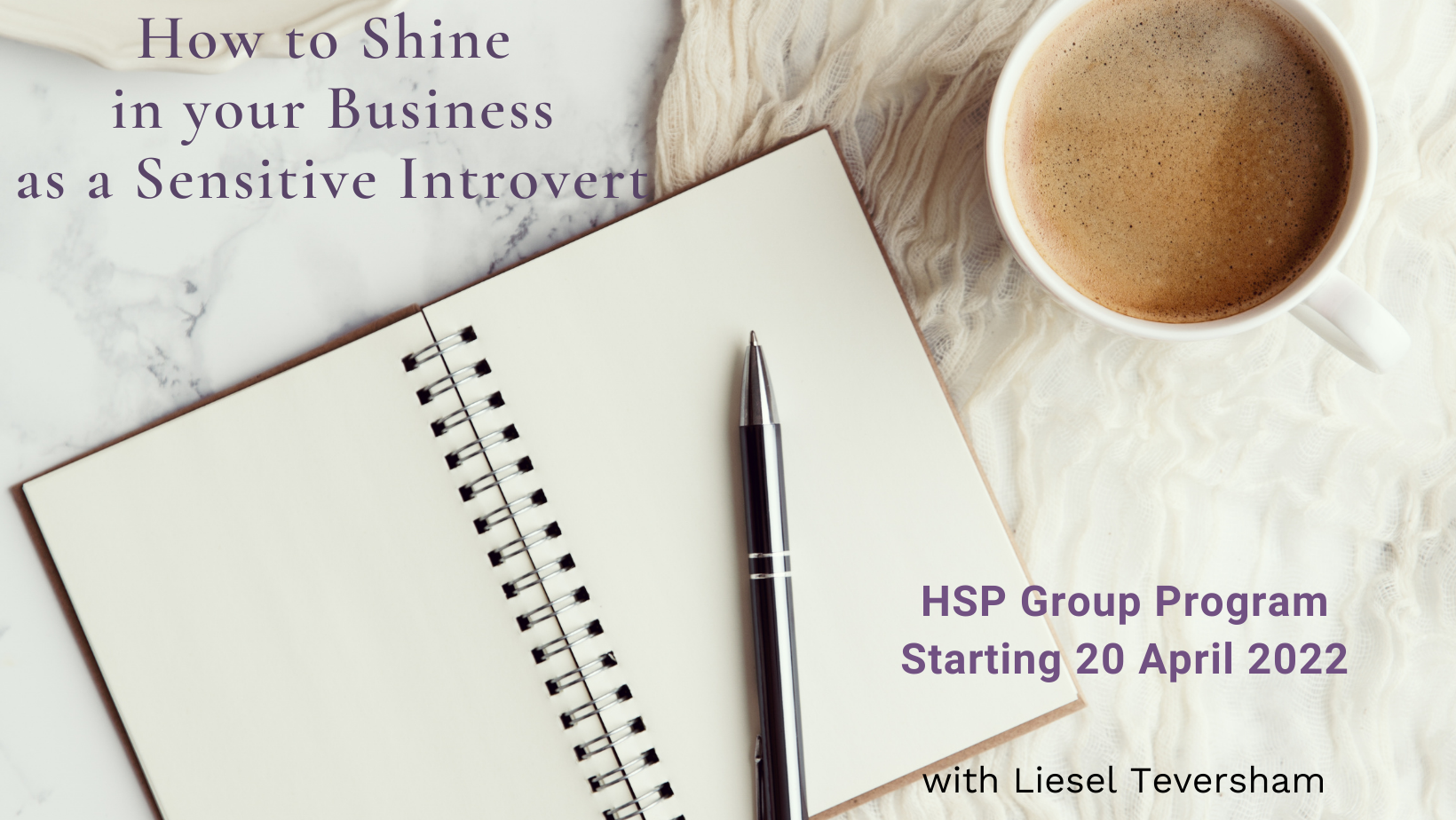 What if you could experience this instead?
Feel relieved that you're no longer alone with your business fears and concerns as an introvert.
Think  – "You mean I'm not the only one? What a relief to hear there's nothing wrong with me."
Feel calm and even excited about being visible, so that the right clients can easily find you. 
Release emotional baggage around fear of failure, rejection, criticism and judgment – so you can feel inspired to tackle those projects and tasks you'd been procrastinating.
Interact with kindred souls on a similar journey, check in with yourself weekly, hear about others' experiences.
Feel completely safe to share and release your fears, so you can move forward.
Get to know your own unique (Clifton) strengths intimately, discover how many wonderful things are already 'right' with you, and use those in your business!
Fully relax into being a sensitive introvert, and feel the peace of self-acceptance.
This group program will be a fit for you if:
You're a highly sensitive introvert with a solopreneur business.
You long to feel great about yourself as an introvert.
You have concerns like:
– People will judge you
– Not good enough to do this work
– You don't feel ready
– Tech stuff scares you
– You have to be an extrovert to succeed in your business
You want to love and enjoy your business rather than feel trepidation and anxiety.
You want to learn ways to resourcefully manage the emotional challenges that can keep cropping up in life.
You want to stop trying to become 'more perfect' before you can have clients.
You want to remember to focus on the value you bring, live a strengths-based life and want support to practice that.
During the program you will: 
Learn empowering specifics about your unique (Clifton) strengths and what drains you. 

Have ample time to practice your strengths, live them, be reminded of them, and see them in action. You will be able to apply them in your business in a way that's natural and easy for you.

Understand how your strengths and weaknesses impact your business, and formulate ideas to make more of your strengths, and mitigate the weaknesses.

Use EFT to process the emotional blocks around your business success.

Have the support of others on a similar path, and share ideas of how to succeed as a sensitive introvert.
Participate in this group for kindred spirits, manage the fears that arise for sensitive introverts, and build quiet confidence as you embrace your strengths. 
Cost:
Monthly: $220 per month
Full Pay: $580 (save $80)
Maximum 6 participants – intimate and safe.
Dates and Times:

Live weekly classes of 60 mins each.
Starting Wednesday 20 April 2022.
Times: likely 8 am Pacific | 4 pm UK or earlier.
To be decided with participants' input.
Commitment:
This is 3 month commitment with the option to continue. 
Taking the CliftonStrengths Full34 Assessment is a requirement. 
Extra's:
– You'll be able to book 60 or 30 min private sessions with Liesel at 66% of the normal rate.
– If you have not yet had a Top 5 Strengths Session with Liesel, you can book that at 66% of the normal rate. It's super empowering to experience your own private session to celebrate your uniqueness.
– You'll receive my EFT Quick Start Course free of charge (sells for $30).
– If there's a need, we will create a few co-working sessions to get some hard stuff done together. We check-in briefly at the beginning with a goal, then each person works on their own in silence, and a quick check-in at the end.
Common Questions:
Will all your business fears and concerns be resolved forever after the 12-week program?
I would be selling you snake oil if I said yes. The answer is: I don't know, and likely not. You are a unique individual with a background I don't know the first thing about. And as we grow and stretch, there's always more to release on the journey.
Here's what I can say:
Every person who attends my groups feels lighter, has deep insights, makes progress on their challenges, and releases chunks of their core issues. They learn to love and accept themselves more, and show up as more of their authentic selves. They feel more relaxed, calm and at ease.
Will there be a recording of every class?
Yes. I appreciate life happens, and there can be unforeseen circumstances. You'll receive all the recordings, though it's by far the most beneficial to attend live.
Why not just a once-off workshop? Do I really need a 12-week experience?
In 15 years of running my own business, I've learned that new habits, beliefs, and patterns take time to integrate. It's one thing to learn about your strengths and a completely different thing to start bringing them into your business.
In a small, intimate group experience like this, you will get support to implement and practice, you'll feel part of a community, see others' strengths and weaknesses in action, feel less alone. All of this takes time.
And it's the introvert way to do things slowly, in small steps, with safety.
What will we do in the calls?
A relaxation or grounding exercise to bring you gently into this loving, kind space

A short check-in: depending on the menu for the call, it might be verbal, in the chat, or in a quick break-out session with only 1 other person

We celebrate a win on each call, no matter how small

On the strengths calls: a short lesson, with exercises to bring it home for you

On the tapping calls: targeted EFT (tapping) for business fears and concerns, where each person will benefit and take away calmness, clarity, and ease

Close: share a tiny stretch or goal for the week ahead

All throughout: encouragement, acceptance, kindness, and love for everything you bring
Wondering about the price?
This is a unique program that will help you to grow past your blocks and leverage your strengths. I've not seen anything like this anywhere else in a global online search. 
Many group programs offer EFT tapping to overcome emotional blocks to creating a successful business.
Some group programs offer how to work with your strengths to create a business or career you love that feels natural and joyful to you,  and help you to feel better about yourself.
In 'How to Shine' you'll get both wrapped into one introvert-friendly container. 
I'm an accredited Strengths Master Coach (StrengthSynergy.co.za). Strengths coaches often charge upwards of $200 per session. It is life-changing and liberating to know what your strengths are.
Some of my EFT peers charge $250 per session, and $997 for a program of 3 months. Most of those programs have 40 people in the program, with little personal attention. 
You'll currently pay $1,800 for 12 private sessions with me
In this program, you'll get 12 sessions with me, and at least 6 of them with personal, individual attention.
In addition – the small group often lead to participants processing even more than in a private session. Group EFT work is powerful! Other participants may bring up points you may not have thought of – and therefore you can let go of things even before they crop up for you. 
The emotional processing happens in a safe, intimate environment. Safe and private, while still offering a community and variety of issues to consider. You'll never feel alone with your challenges. 
In summary: 
You'll not only let go of many fears and concerns around your business. You'll also learn how to leverage your strengths. This means you can take steps with flow and ease, as well as be clear on the value you offer your clients by just showing up as yourself.
I'm not sure about doing this work in a group...
I've hosted many intimate EFT tapping groups specifically for introverts. This format is so valuable and helpful. It provides safety to work with even the deepest issue.
Participants receive a targeted 15-20 mins of personal attention, while every other person in the tiny group also receives the benefits of tapping.
We rely on a phenomenon called 'Borrowing Benefits' – where if you tap along with someone else's issue, your own issues also heal and shift. 
Every small group I've hosted gets the same feedback – "I did not even think of that issue but I'm so glad she brought it up! I was not aware it was bugging me too, and now I've dealt with it painlessly in the background". 
Participants feel heard, seen, validated, acknowledged, safe, they're in compassionate hands. 
I've seen people in tears many times when they hear about their strengths – when they realise that they're amazing and beautiful exactly the way they are, and they can stop trying to be like anyone else…. stop beating themselves up for not being like the extrovert down the road.
The number of huge smiles I've seen on people's faces after a strengths session continues to warm my heart.
How to Book: 
Send me a note below! You can mention whether you'd like a 15 min chat to ask questions first. Or, if you're ready to book, let me know if you'd like the monthly or full-pay option. I'll get back to you soon with all the necessary bits. 
Access Details:
You will receive all the details of how to access the group experience immediately after registration.  An email will arrive with 'Confirmation' in the subject. Check your Junk/Spam folder if you don't see it.

We'll meet online on Zoom, with audio and video. 
My groups are introvert-friendly: small, intimate, we often use the 'chat' function, and no one is ever put on the spot. 
I look forward to supporting you to feel empowered and inspired to relax into being your beautiful self, as a sensitive introvert building your business!
Send me an email if you have any questions,  want to book a chat about it, or if you want to secure your place. I'll reply as soon as humanly possible!
What Previous Participants Said
"Attending Liesel's workshops is like being wrapped in the softest, warmest blanket of sensitive compassion.
By the end I always feel relaxed, expansive, and filled with hope for the possibilities in my life.
Most importantly I feel a deeper caring for and a commitment to myself, to honor my feelings and needs more and more. "
"Liesel presents in such a relatable and inclusive way that makes every workshop a pleasure.

Even the toughest of subjects is opened up gently and with genuine care and I feel comfortable to explore."
"I appreciated the connection with other people–we are all dealing with such similar situations. And I really appreciated your kind, calm tapping presence"