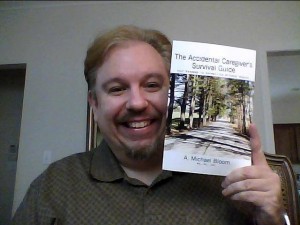 Certified Professional Coach and Caregiving Without Regret™ Expert A. Michael Bloom has helped to revitalize the careers of hundreds of family and professional caregivers with practical, tactical soul-saving coping strategies and support them in saving lives, including their own. With a wealth of practical expertise as both a family and professional caregiver, Michael serves as a welcome and sought-after catalyst to guide caregivers and health and human services leaders to stay energized and committed to work that has never been more important or vital than it is today. Having earned two Master's Degrees in Psychology and Social Policy, Michael's passion for life-long learning is best expressed through the practical sharing of game-changing tips that make urgent and real impact when and where they are needed most. Whether you work with Michael in a private mentoring program, choose emergency roadside assistance coaching, or engage with him in one of his compelling and practical group workshops, you are sure to immediately recharge your energy and take inspired action towards achieving the life of abundance and joy that you so richly deserve. Happy clients say many remarkable things about the impact of Michael's support on their lives and work. This comment speaks volumes: "Michael Bloom is like a warm chocolate chip cookie that offers the delight and perks of comfort food without the calories." (Sandy Putnam-Franklin)


Some Points We Discussed
We are all on a unique journey of life.
Michael's position of being primary caregiver to both his parents led him to starting his own business helping caregivers to look after themselves while caring for others.
Running your own business is challenging : you may feel isolated as you are doing everything on your own and there is no guarantee of income.
It is important to focus on one or two areas of marketing to reach your target audience.
Michael's book " The Accidental Caregiver's Survival Guide" led to invitations to speaking events and an online platform for his business.
Don't delay in taking action, you can refine along the way.
"It's about connection, not perfection." Jon Schumacher
Be observers, be of value, be deeply genuine and deeply connect with people you are meant to support.
Running your own business is not a linear path, it is more of a zigzag with road blocks.
These road blocks are temporary – persevere and be resilient.
It is not a sprint, it is a marathon –  be okay with going at your own pace.
Building a business is a remarkable way of personal growth.
Accept feeling uncomfortable and try things you usually wouldn't try.
Being open to new experiences offers great rewards.
Michael's Website
http://caregivingwithoutregret.com and http://hangoutsthatconvert.com
Find Michael on Social Media
Facebook
Twitter
LinkedIn
Recommended Books
The Accidental Caregiver's Survival Guide: Your Roadmap to Caregiving without Regret
Liesel Teversham
Liesel helps sensitive introverts to see their sensitivity as a superpower, love their work and practice awesome self-care so they can be energized and make a difference in a meaningful and fulfilling way. She helps them to overcome the fear of being visible, avoiding the spotlight and conflict, being 'too nice', perfectionism and procrastination.
She's the author of "No Problem. The Upside of Saying No", which is a handbook for those who struggle to say no, are overwhelmed and exhausted.
Click here to read about the book.