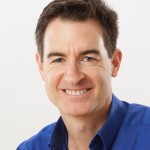 Brad Yates is known internationally for his creative and often humorous use of Emotional Freedom Techniques (EFT). Brad is the author of the best-selling children's book "The Wizard's Wish," the co-author of the best-seller "Freedom at Your Fingertips," and a featured expert in the film "The Tapping Solution."
He has also been a presenter at a number of events, including Jack Canfield's Breakthrough to Success, has done teleseminars with "The Secret" stars Bob Doyle and Dr. Joe Vitale, and has been heard internationally on a number of internet radio talk shows. Brad also has over 500 videos on YouTube, that have been viewed over 9 million times, and is a contributing expert on the Huffington Post.
Some Points we Discussed:
The windy and interesting road Brad walked, to the success he enjoys today (Hint – the career he first chose has nothing to do with tapping!)
How a small idea turned into more than 550 Youtube videos and that we don't need to know the whole road before we take the first step
Actions lead us in directions – and that does not mean we'll end up there forever. Life brings us what we need when we take action!
Take 'likely action' – it doesn't have to always be 'inspired action' – and you'll get feedback to guide you next
"Fail at something every single day!"
There are "Winning Moments" and "Learning Moments" – and when you learn from the moment, guess what?
The true role of self-sabotage and how it serves us
And so many more juicy gems!
Brad's Website
Find Brad on Social Media
Facebook
https://www.facebook.com/BradYatesTapping
Twitter
LinkedIn
https://www.linkedin.com/pub/brad-yates/2/811/154
Google +
https://plus.google.com/+eftwizard
Liesel Teversham
Liesel helps sensitive introverts to see their sensitivity as a superpower, love their work and practice awesome self-care so they can be energized and make a difference in a meaningful and fulfilling way. She helps them to overcome the fear of being visible, avoiding the spotlight and conflict, being 'too nice', perfectionism and procrastination.
She's the author of "No Problem. The Upside of Saying No", which is a handbook for those who struggle to say no, are overwhelmed and exhausted.
Click here to read about the book.